The Viking Store has been a family business for decades founded by the head of the family Sigurður Guðmundson in the 1950's. Starting out as a tailor in a small space downtown Akureyri, where his wife and children worked by his side along with other family members, they soon needed to move the company as their little business prospered and demanded better housing. The family bought the beautiful building named París built 1913 where they continued caring for their business and support their family. Soon París became a department store where the family sold clothing, flowers, toys, woolen goods and souvenirs. Mr. Guðmundsson's only son took over the company in the 1980's where he focused more on the increasing tourism in Iceland providing great service to customers and offer handmade souvenirs and clothing along with toys and candy for the children. Almost every person in Akureyri has a vivid memory of this little toystore and the large viking that has been standing outside of the store for so many years. Paris has now been renovated and houses a café, bar and a concert venue.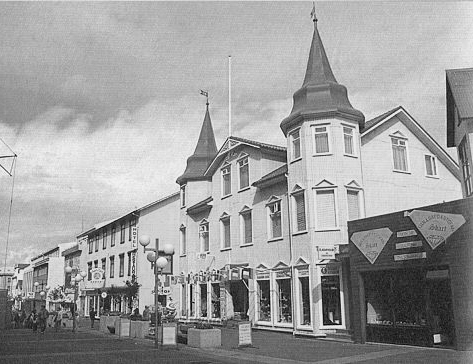 Mr. Guðmundson's grandson, Sigurður Guðmundson jr., always called Siggi as Icelanders always go by their first name or a nickname, founded The Viking Store in 1999 based on his fathers and grandfathers vision and experience in a small space by Ráðhústorg in Akureyri and has ever since enjoyed growing his business and inspired many of his fellow merchants. He is a man of his words and is not afraid of exploring new things, support others and be a leader in merchandising in Iceland. He was awarded "Njarðarskjöldurinn" in February 2013, which is to encourage better business and service for tourists in Reykjavik. Siggi is the first individual to receive the prize as it has always been awarded to a single store or a company. The Viking Store has now five stores in Iceland, two in Akureyri, two in Reykajvík and one in Ísafjörður, a growing company that will always provide the best service available, offer the best prices to their customers and be known for their long opening hours.
Siggi is also the owner of the shop Made in Iceland in Reykjavík, a store that only sells quality goods made in Iceland. In addition he runsone of the oldest grocery store in Reykjavík called Vísir which is an important historical landmark in Reykjavik as the store will turn 100 years old in 2015. In Akureyri he operates art gallery "Listfléttan" where you can find the finest art and paintings by Icelandic artists.